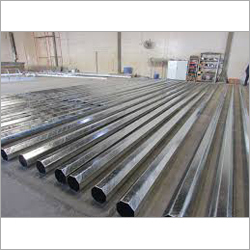 Product Description
A galvanized pipe refers to a steel pipe that has been coated with a protective layer of zinc through the process of galvanization. The zinc coating helps to prevent corrosion and extends the lifespan of the pipe, making it suitable for various plumbing, construction, and industrial applications.
FAQs :
Q: What is the purpose of galvanizing a pipe?
A: Galvanizing a pipe involves applying a layer of zinc to the surface to protect it from corrosion. The zinc coating acts as a barrier, preventing the underlying steel from being exposed to moisture, chemicals, and other elements that can cause rust and degradation. This makes galvanized pipes ideal for applications where durability and resistance to corrosion are crucial.
Q: Where are galvanized pipes used?
A: Galvanized pipes find wide usage in plumbing systems for transporting water, especially in older buildings. They are also employed in various industrial applications, such as oil and gas pipelines, outdoor structures, fencing, and irrigation systems. Galvanized pipes are suitable for both indoor and outdoor use due to their corrosion-resistant properties.
Q: What are the advantages of using galvanized pipes?
A: Galvanized pipes offer several benefits. The zinc coating provides excellent corrosion resistance, making them durable and long-lasting. They are easy to install, as they can be threaded or welded together. Galvanized pipes are also known for their strength, allowing them to withstand high-pressure applications and harsh environmental conditions.
Q: Can galvanized pipes be used for drinking water supply?
A: Galvanized pipes were commonly used for drinking water supply in the past. However, it is now recommended to use other materials, such as copper, PEX, or PVC, for potable water systems. This is because over time, the zinc coating inside galvanized pipes can erode, potentially leading to water discoloration and an undesirable taste. It is essential to consult local plumbing codes and regulations for guidance.
Enter Buying Requirement Details
" We are only dealing in Delhi, Haryana, Himachal Pradesh, Jammu and Kashmir, Madhya Pradesh, Uttar Pradesh, Punjab, Rajasthan, Uttarakhand."